Facebook has 2.6 billion monthly active users, worldwide. More than  150 million people use Pinterest every month and Youtube is the second-largest social media network in the world. These statistics show that social media marketing can be a dynamic powerhouse that helps reinforce branding, create quality leads and drive sales. However, marketers trying to achieve success with social media marketing must overcome some common challenges.
In social media marketing, strategies and techniques vary from brand to brand. Getting started with social media marketing is easy but knowing how to launch, run and optimize campaigns, in the long run, is a major task.
The key to success is to know how to strategically create, carry out, track and measure the overall plan. All businesses need to create a social media marketing strategy and operate the business social accounts in a thoughtful, measured way.
If you don't, you risk the danger that your competitors will, and as a result, they will gain market traction and exposure over you.
Follow these simple 7 social media marketing tips to improve in 2022
1) Define your Goals & Objectives
Studies say that a marketing plan is 80% more likely to be effective if the brand goals and objectives are identified and followed properly. These goals should align with the brand's comprehensive marketing efforts.
Setting social media goals is a key step toward proving (and improving) the value of your social media work. Writing your goals down and regularly reporting on your progress also significantly increases the likelihood that you will achieve what you set out to do.
Using the "SMART" goal-setting strategy can help build the foundation for successful social media marketing in the long run. The acronym stands for:
Specific: Be clear. Does "increase engagement" mean you want 100 new followers or 1,000? Making your social media goals specific helps you track progress and measure success.
Measurable: Every goal needs some kind of metric. "Improve customer service" is a great concept, but it's not a goal unless you have a way to measure that improvement.
Attainable: Your social media goals should absolutely require you to stretch, but they should be within reach if you put in the required work.
Relevant: This is the piece that ties your goal-setting back to larger business objectives. If your goal involves increasing Facebook likes, for example, make sure you understand how that will benefit the business.
Timely: Deadlines keep everyone accountable. Include a timeframe for the completion of your goal so you know when to check in on your success. You might also want to include some milestones along the way for incremental check-ins.
2) Research and Identify your Audience
Creating a buyer persona remains a significant part of any marketing strategy because people are diverse. Therefore, you need to take a more personal approach to win their attention.
A message will be effective if it is particularly curated for a specific target audience. Therefore brands should be able to identify the needs, wants, and desires of their target group.
If the meaning of the message is communicated properly and reaches the correct audience, brands will get their loyal followers and the engagement rate may also decrease. All of these may also negatively affect sales.
Some social media marketing tips to understand your target group:
Conduct a survey to know your audience's pain points.
Study the audience's demographics and goals.
Take part in conversations on forums that include your target audience.
Respond to comments on blogs and comment on 3rd party blogs.
Send replies to all comments or questions on social media channels.
Always collect feedback from your audience.
3) Select the Right Social Media Networks for Your Audience
Does your business need a Twitter account? Is Snapchat the right social media app to expand your brand? Should you just jump on board every popular social network to maximize your reach? With so many social media channels to choose from, deciding which ones deserve your attention can be difficult.
Contrary to popular belief, you don't necessarily have to be on every social network. In fact, that approach can do more harm than good if you spread yourself too thin. Even large brands with dedicated social media teams will roll out on new social channels with a more limited or targeted presence as they learn the ins and outs of effectively marketing on it.
For most businesses, the best approach is to handpick social media channels that make the most sense for the brand, rather than try to expend an equal amount of effort everywhere. Your decision should be based on several different factors including your target audience, industry and social media marketing strategy.
Quality always trumps quantity. It's better to choose two or three channels and post high-quality, engaging content consistently rather than spreading yourself over more channels and posting low-quality content.
Focusing on a couple of networks allows time to interact and engage in conversations, which ultimately leads to more conversions and customers.
Some social media marketing tips to understand your target group:
If you want to increase brand awareness, then consider using well-established platforms like Facebook rather than up-and-coming networks like TikTok.
If you want to generate more leads, then consider using LinkedIn as it's renowned for B2B marketing.
If you want to sell a product, then consider a visual channel like Instagram or Pinterest that both offers product tags and prices with links to your e-commerce store.
Questions to ask:
What channels are your competitors using?
What channels are delivering the most engagement?
What type of content on each channel drives the most engagement?
You can use social media monitoring tools to set up alerts and notifications that track your competitor's online activity.
4) Investigate How Your Competitors Approach Social Media
How do you stack up against your competitors when it comes to your social media strategy, growth and engagement? Find out with a social media competitive analysis through Digital Wisdom social media marketing tips.
WHY A SOCIAL COMPETITIVE ANALYSIS IS VALUABLE?
Conducting a competitive analysis accomplishes several things:
Outlines what tactics others are using to help you be smarter about your social strategy.
Gives a benchmark for you to see how your brand's social metrics measure up.
Sparks ideas for creative campaigns or unique ways to use social channels.
Uncovers a niche or opportunity to try something no one else is doing yet.
Provides insight into what tactics have worked well (or not so well) for your competitors.
Reveals what channels/areas your competitors are focusing on, so you have a better idea of their strategy.
After your find competitors, collect the following information about them for each social network:
Their audience size
Their engagement rate
Their engagement method (such as live videos, humanizing the brand, contests, discount coupons, etc…)
Their posting frequency
Their advantages (for example, they could have a big and engaged audience or they're very funny or use user-generated content very effectively or have partnered with a big social media influencer, etc…)
Their disadvantages (for example, it could be that they're only using 1 social network and you have a large audience on 3 social networks, or it could be that they publish posts inconsistently, etc…)
Once you've performed your competitor research and have collected enough information to compare competitors, you will have a clearer picture of how to improve your social media communication strategy.
Then, to monitor your progress against your competitor's progress and make sure you remain ahead, use social media competitor analysis tools depending on which platform you're using.
5) Create Suitable Content to Share with Your Followers
When it comes to marketing, exposure is the name of the game.
Having high-quality content is great, but it means nothing if there's no one actually reading it.
With that in mind, it's no wonder that brands and businesses from all over the world are doing everything in their power to increase their exposure on social media.
You need to balance different formats to ensure you are getting your key message across effectively, and some of the more popular ones that we recommend include:
User-generated content
Live streams
Contests & competitions
Case studies
Influencer marketing collaborations
Don't rely on a single content format if you truly want to drive engagement from your audience, but be sure to balance the time needed to produce each different piece with the importance of maintaining a consistent publishing schedule.
6) Promote Your Social Channels
Some social media marketing tips to understand how to promote your social media channels:
 Run Contests on Social Media to Attract Attention.
Run deals and promo codes on social media
Add Your Branded Hashtags.
Share Creative Visual Content for Better Engagement.
Use Unique or Branded Social Icons on Your Website.
Promote Your Social Accounts in Newsletters & Email Signatures.
Create Targeted Ads. ..
Tag Products to Your Posts.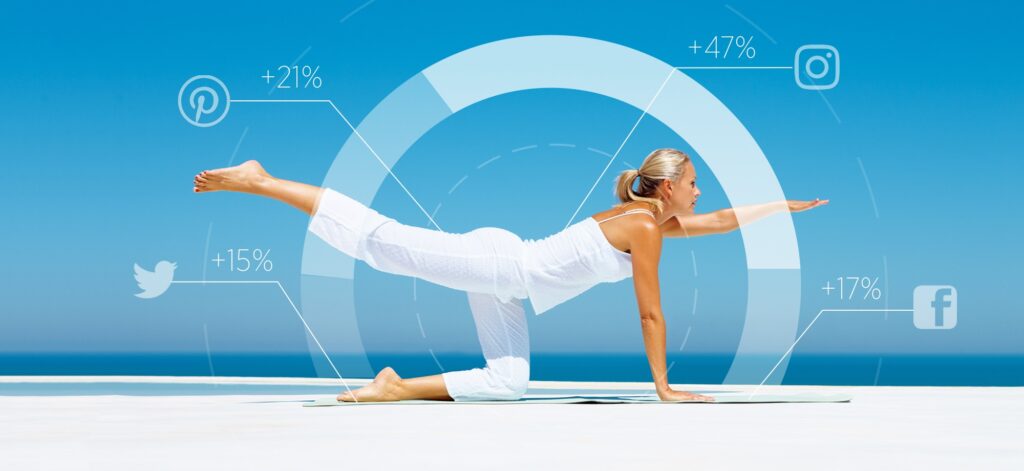 7) Track Your Results and Adapt
Social media is a busy field in 2022. Everyone is on it! But not everyone is getting what they've been expecting. It is true — it's more and more difficult to achieve results on social media, namely because it's a very crowded space, but also because many marketers don't track what they've been doing, thus don't adjust their efforts.
To me, a key to success is being able to adapt to changing circumstances. Call it flexibility.
It's impossible to adapt if you don't know what you need to adapt to. Tracking certain metrics will signal whether your social media efforts are paying off and if some changes are required.
Let's have a look.
My marketing funnel has three components: awareness, engagement, conversion. All of these stages will deal with a different type of audience and will bring different types of results. Ideally, they should facilitate the consumer journey. It's important to analyze them and address issues (if any) to improve the results.
Some social media marketing tips to understand your target group:
Conduct a survey to know your audience's pain points.
Study the audience's demographics and goals.
Take part in conversations on forums that include your target audience.
Respond to comments on blogs and comment on 3rd party blogs.
Send replies to all comments or questions on social media channels.
Always collect feedback from your audience.
This is the social media marketing tips of the iceberg when it comes to crafting an effective social media strategy for your business. Each business will have its own unique mix of social media channels that will ultimately work for them. The key is to arm yourself with some solid pointers to get you started and move forward.