Scale your business with the most trusted Email Marketing Agency in Hyderabad
Today, most B2B engagement marketers recognize how important email is to their overall marketing mix, how it can increase revenue, and how it can improve customer relationships. In fact, according to a report by Forrester Research, email now ranks as the third most widely used B2B marketing tactic, next to public relations and direct mail. And nearly eight out of 10 B2B marketers say the impact of email marketing is increasing.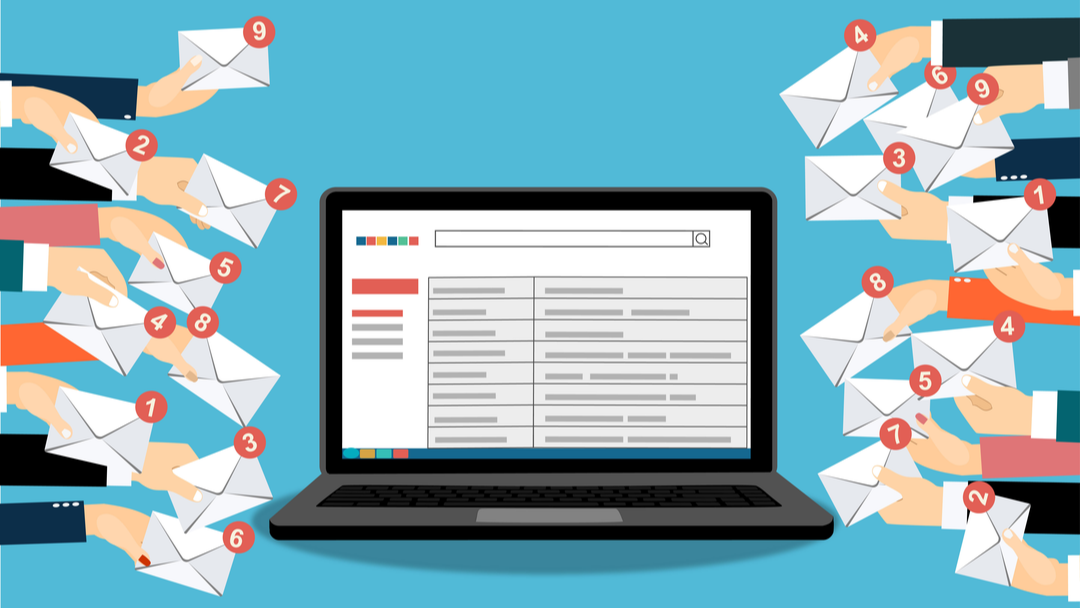 Digital Wisdom is a top Email Marketing Agency in Hyderabad, we take the time to understand your business' aims & objectives, define your target audience, and research what your competitors are doing. This allows us to put together a detailed email marketing strategy that is designed to take your customers on a conversion-focused journey.
Our team of experts has years of experience which means we can create effective email marketing campaigns that resonate with your customers and prospects are delivered to them at the right time for maximum ROI.
However, it just doesn't stop there! We also help to ensure your marketing emails contain the right message, they are sent to the right people and at the right time. In turn, this leads to more sales and increases revenue.
Email marketing is communicating, informing, promoting, and persuading prospects through email messages. A highly wrote email campaign is generally run, it is a set of email marketing messages that are sent to users at regular intervals such that they engage, educate, and motivate them to take an intended action.
Email messages can be informational or sales-oriented, they seek reader to either download, buy, subscribe, call, or visit a particular website. The better the email marketing campaign, the better is the return on investment. Digital wisdom is a top Email Marketing Agency in Hyderabad that can take your business to new heights.
CHECK YOUR WEBSITE SEO SCORE
EMAIL MARKETING AGENCY IN HYDERABAD
How Your Website Is Performing?

An appealing subject line is the icebreaker; eye-popping subject catches attention and motivates the prospect to read the complete mail. Our team of email marketing in India has creative content experts who understand consumer psychology and the way they react to different communications. We doubt plain flat communication in an email campaign, our email messages are intelligently framed, catchy and enticing, and that's why they do wonders for our clients.

Our research team is vigilant about client's business communication needs from an email marketing campaign. They provide the most accurate database of email accounts. Email marketing service providers know that half of the job is done if the email communications are going to the right people, thus we can focus on making the email message strong.

We have changed the face of email marketing in India. We have a complete planning process wherein we identify the communication objective, frame an impeccable communication around it, shoot emails to target audience and track Email marketing activity performance. At every step of the planning process, we have domain experts that ensure venture success.

Do You Want Email Marketing for your Business?
Our team of experts will help gaining lead conversions through customise email marketing campaigns. Kindly fill the form.

Personalized Touch
Digital Wisdom is a renowned email marketing agency in Hyderabad, India, personalized email marketing is one of our most popular services.
We are capable of sending personalized messages with the user's login name or even deeply personalized with sales or browsing history. If an individual visited your website or mobile application and searched for some specific stuff, we track these activities and send personalized emails for a winged response.
We have helped numerous companies in reaching a broad customer base and have gushing sales. Avail of the services of the best email marketing agency in Hyderabad and take advantage of our deft for sure shot email marketing success. Our email marketing services will help you in transforming your emails for the better.
Digital Wisdom, email marketing agency in hyderabad guides you through the entire email-marketing process and run the campaign on your behalf, including preparing a design we're sure will get you the attention you want.
In short, email marketing done right is a gold mine for enhancing your brand and increasing revenue. Done wrong, and it can leave a permanent stain on the integrity of your brand.
What do we do?
Digital Wisdom team of email marketing specialists use the latest software to create a complete email service, meaning you can hand everything over to us and rest assured your brand is in safe hands.
We'll take care of everything from the design and content to creating the code, setting up the campaign and sending the email, and following up with a comprehensive report so you can see exactly what worked and what didn't.
Digital Wisdom, and email marketing agency in hyderabad can tell you:
Who opened your email?
Who clicked through to your site.
The most popular sections of the email.
The least popular sections of the email.
Who unsubscribed from your database?
We can use this data to inform future email marketing campaigns, ensuring the content you send to your customers is relevant and beneficial to them, reducing the number of people clicking on 'unsubscribe'.
If you have a large customer database or you wish to send a tailored message to different customer groups, we can create bespoke emails for each segment.
If you'd prefer, we can train you to use your chosen email marketing software, setting up easy to use templates and providing sample subject lines and copy.
Digital Wisdom, an email marketing agency in hyderabad; make sure you're compliant with the latest data protection regulations – we will ensure your emails are only sent to customers who have agreed to receive your marketing communication.